Kanturk and District Community Council was founded in 1984 as a representative body for the people of Kanturk and District. Its original Constitution outlined 14 main aims that encompass a wide range of social, economic and community objectives.

Active sub-committees are the mainstay of the Council's work. Typically, subcommittees are chaired by a member of the Council and other members are co-opted as necessary. Some sub-committees may be temporary, for a specific task, while others have been in existence for many years. The Community Council is a Company Limited by Guarantee and it collaborates closely with other bodies involved in the development of the town. The members of the Community Council are both elected and seconded.

The original objectives of the Council were outlined in its first Newsletter produced in 1986 (below), and further work is described in more recent newsletters.
Current Community Council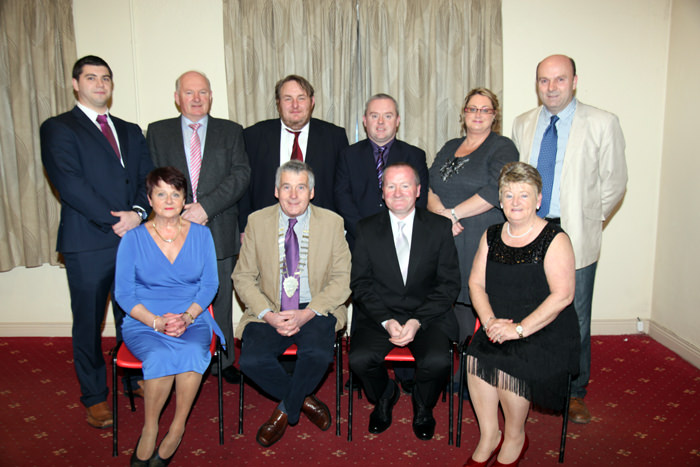 Origin and Main Work of the Community Council
Kanturk had a long-standing Development Association but, in the early 1980s, there was a feeling amongst members that a fresh approach might be worthwhile. A public meeting was held to discuss the issue in 1984. Even though poorly attended, it was proposed that a Community Council be formed on a model and ethos borrowed from Muniter na Tíre. This was agreed and an ad hoc committee was formed to oversee the process. This was led by Fr. John Murphy, a curate in Kanturk at that time.
Much work had to be done to set up the election system and 1,700 people voted to elect the first Council. Bill Cashin was appointed Chairman, Pat McCarthy was secretary and John O'Keeffe treasurer
Sub-committees were set up and various projects were undertaken with the assistance of other co-opted members.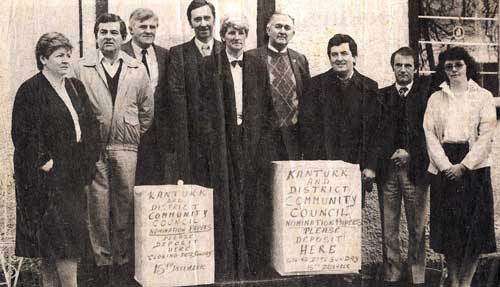 This system worked very well and some of the earlier projects included a Christmas lighting initiative and the resurrection of the St. Patrick's day parade. A town twinning with Rostrenen in France was also negotiated and the Wild Boar Festival was also re-started. Swimming classes were also organised in Mallow and clean-ups of the town and rivers were organised. An annual awards ceremony was also initiated.
The Community Council Responsible for the Restoration of the Edel Quinn Hall, 2001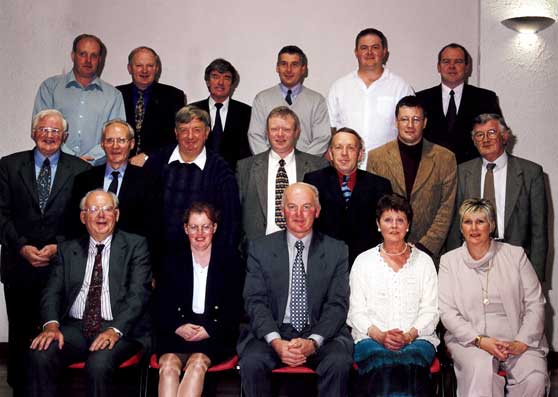 Over the years, a range of other projects were carried out by the Community Council. These include:

O'Brien St. Peace Park
This riverside property, once part of the Egmont Estate, was purchased from private ownership by the Community Council in the 1990s. A great amount of work was done to bring it back to its former glory, much of it being carried out on a voluntary basis by members of the Council, along with the help of a Fás programme.
This work included the clearing of overgrowth, the maintenance of mature trees, the building of walkways, bridges and re-seeding, and the erection of the peace monument. The park was officially opened by President Mary McAleese in 1998.
In consultation with the County Council and local residents and traders, O'Brien St. was also developed at this time and these combined works greatly enhanced that part of the town.

Edel Quinn Community Hall
The transfer of ownership of the Edel Quinn Hall from the Legion of Mary to the Community Council occurred during the early 1990s. The Council then embarked on an extensive refurbishment programme — former Chairman, Eddie Welsh, was a stalwart of this period of work.
This work began in 1992, overseen by a very hard-working Hall Committee. Their endeavour has not slackened and the hall is very heavily used for community activities. The Hall Committee paid off the initial refurbishment dept in 2007. However, as soon was this done, they requested sanction from the Community Council to proceed with further renovations and developments costing €20,000.

Trade Union Hall / Temperance Hall
This building in Strand Street has a very long and interesting history. Its former trustees approached the Community Council with a view to it being restored to community use. Ownership was transferred and, led by Billy Cashin, the building was beautifully restored by members of the Community Council and other helpers during 2005-06. It was formally opened during the year at a pleasant function at which Padriaig O'Sullivan gave an very interesting presentation on the hall's role in the history of Kanturk. It is now in community use yet again.

Kanturk Castle
The Community Council was involved in setting up a committee to establish the McCarthy Clann Society. Part of its work was to highlight the potential of Kanturk Castle as a tourist attraction. Arising from this, ownership of the castle was transferred from the British National Monuments Trust to the people of Kanturk and Ireland — An Taisce is now its formal guardian.

Twinning and 'Kanturk Park' in France
A town twinning scheme with Rostrenon in Brittany was one of the Community Council's earlier projects. There have been many exchange visits over the years and, arising from this, there is now a 'Kanturk Park' in Rostrenen!

Sheltered Housing
Under the Chairmanship of John Dillon, a sheltered housing scheme was initiated. Arising from this, twelve houses are now being built under a separate committee.

Canon's Wood
In conjunction with the County Council, the Community Council co-ordinated the building of a shelter in Canon's Wood, and in the layout of that general area which is opposite the Church St. car park.

Greenane Park
The Community Council takes an active part in the management and deveopment of the park, in partnership with the County Council.

Kanturk Arts Festival
Kanturk Arts Festival was launched in 2009 under the auspices of the Community Council
Guide to Kanturk Historic and Heritage Sites

A guide to 32 historic and herigage sites in Kanturk was produced in 2009
Chairs of the Community Council
Bill Cashin
Pat McCarthy
Tim Goulding
Kieran Fitzgerald
John Dillon
Eddie Welsh
Donal O'Sullivan
Tom O'Sullivan
Tom Daly
Siobhán O'Neill
Jerry Hickey

1985-1988
1988-1991
1991-1992
1993-1993
1993-1996
1996-2000
2000-2003
2004-2008
2009-2011
2011-2014
2014 – current