This pedestrian crossing of the River Dalua connects Church Street and Egmont Place. It was designed to replace a wooden structure of about 1815 vintage which lay a little downstream. This very attractive four-arch cut-stone bridge was part of Sir Edward Tierney's programme of urban renewal. He built it at his own expense in 1848 when he was a proprietor of the former Egmont Estate.
It is known locally as the 'Metal Bridge' due, perhaps, to the handsome cast-iron railings which are an added feature and on which are embossed, in the form of shields, the Tierney coat-of-arms, proof positive of the social advance made by one of humble origin.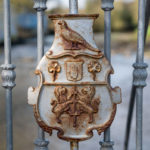 The bridge was severely damage by a 1926 flood as a result of which its timber superstructure was replaced with concrete. The removal of the bridge was part of proposed flood prevention works following severe flooding in the town in 1980, but local objections saved the structure.
The bridge now serves as a distinctive entrance to Kanturk's highly acclaimed Town Park.
"Kanturk My Hometown"
"Kanturk My Hometown" was penned by the late Peter O'Neill and is sung here by Timmy Lynch. 
Timmy's wonderful vocal is enhanced beautifully by local scenes filmed and edited by videographer Peter O'Callaghan of On Track Films